The latest project from the Carstairs-area publisher, a collaborative celebration of Alberta's open skies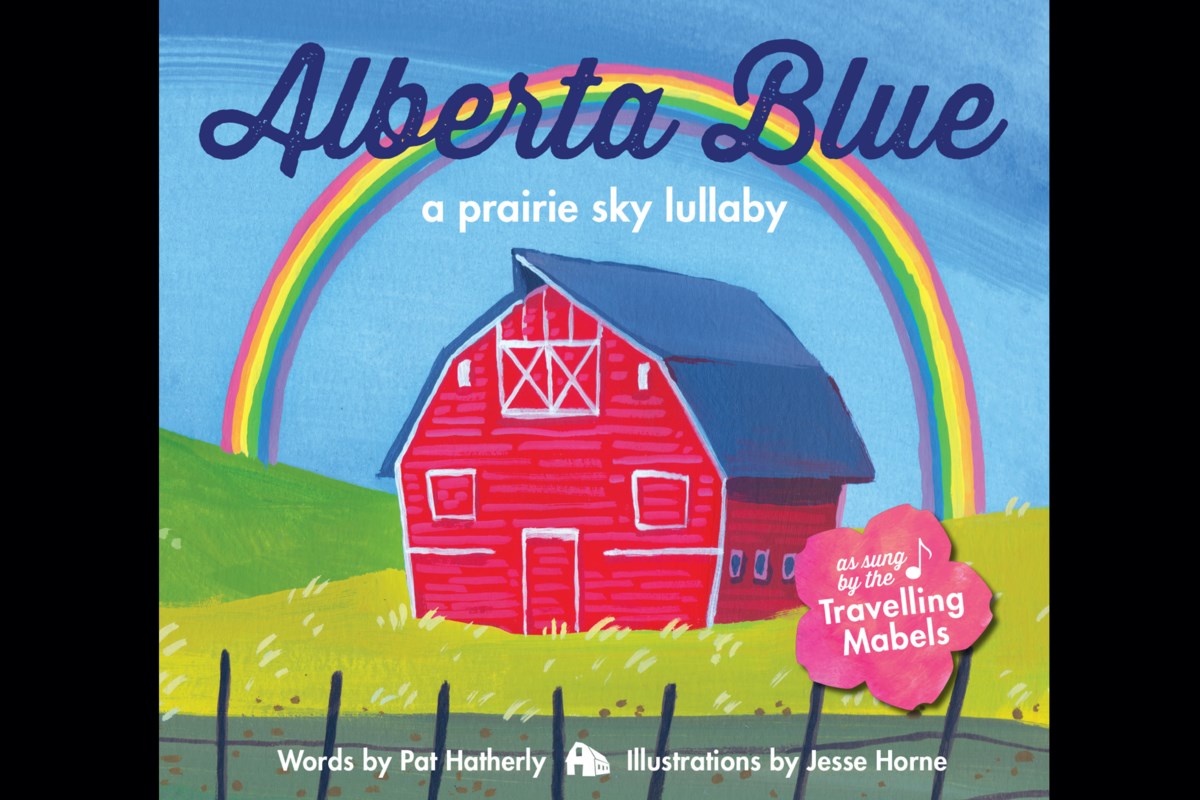 Red Barn Books have teamed up with The Traveling Mabels to create a lullaby book version of the band's song titled Alberta Blue
CAR STAIRCASE — A local publisher that in just a few years since its launch has already racked up numerous awards, released its latest project earlier this summer that mixes both musical and visual mediums.
Ayesha Clough, who launched Red Barn Books in the Carstairs area in 2019, said she was on the road one day when Alberta Blue – one of the most popular tunes performed by a band called The Traveling Mabels – hit the radio and immediately captured his imagination.
"It was so beautiful – the lyrics, the melody, the voice of the lady singing," Clough recalled in a phone interview. "As soon as I heard the song, I thought, 'That would make such a great lullaby. ""
Of course, the song wasn't necessarily originally intended as a lullaby, she said.
"But for me, with the hat on my children's books listening to this song, I could immediately imagine it as a little hardback book."
So, at his first opportunity, Clough contacted Pat Hatherly, who wrote the original lyrics, and then got in touch with the band – a four-piece band consisting of Eva Levesque, Lana Floen, Therry Lawson of Sundre and Keith Floen. – to launch the idea.
"Everyone was super excited to turn the song into a hardback, and so that was the start," she said.
This collaboration started about a year ago, she said.
But despite COVID-related delays, the hardback as well as The Traveling Mabels' fourth and final album titled Take me Home – which features a more serene, drumless remix of the original song's prairie sky lullaby – has been released.
"They recorded a special lullaby edition of the song; take out the drums and make it even more soothing and calming for babies," Clough said.
The reception so far seems to speak volumes.
"This book sells itself – like it's flying off the shelf," Clough said, attributing that popularity to an attractive, beautifully illustrated hardback that's further complemented by the lyrics to a song it's from. immediately fell in love during this fateful road. .
"Even the Mabels had to order a second box of books because it keeps selling out at their shows and off their website," she said.
"Alberta Blue has become one of our best sellers."
And the latest project may well be on the way to winning another award for the publisher.
"It was nominated for an illustration award in this year's Alberta Book Publishing Awards," she said. "We will know in September.
The words accompanying the illustrations in the book which feature watercolor landscapes composed by Calgary artist Jesse Horne are essentially the same as the lyrics of the original song, which were vocalized by Lana.
"She has the voice of an angel and she makes it sound so easy when she sings it," Clough said.
"If you're really brave — or a really good singer — you can try singing with Lana," she laughed.
"My vision for the book is that it will be a lullaby for every Alberta child," she later added.
"I think any baby who is lucky enough to be born in Alberta has somehow won the lottery of life," she explained. "This book is just a celebration of what it's like to grow up in Western Canada under the big prairie skies."
Keith confirmed that he was initially contacted by Clough, who pitched the proposal.
"We thought it was a great idea," he told the Albertan. "The song itself tends to paint a picture of Alberta in your mind. So it was quite logical and natural to want to maybe go into a book form and have it presented like that.
The Mabels had never worked on such a collaborative effort.
"It was the first time we've done a project like this," said Keith, who seemed grateful for the opportunity.
"It's become a real popular item on the shows," he said of the logbook, which he added seems to resonate particularly well with their fanbase demographic which includes many grandmothers who are always on the lookout for their next grandchild. present.
"There are constantly stories coming back of them saying, 'We sing Alberta Blue while we sit and read it with our grandchildren. So, it's pretty cool to see this all unfold," he said, adding that part of the idea was to allow anyone who is so inclined to sing along.
"The response has been really great from the fans, for sure," he said.
The joint project also introduced some of The Mabels' fans to Red Barn Books, and vice versa.
"It broadens everyone's horizon," he said.
"We are so excited that Alberta babies now have their very own Alberta-themed lullaby," Lana said in a press release. "I guess our voices could put babies all over the province to sleep."
Never one to sit idle for very long, Clough said the next post on the record is a new publication slated for release in the fall titled Love & Rules which was written by Lee McLean, who previously wrote Horse Woman. A little further down the proverbial route to next spring, she said another children's book called Flip Flop Flapjack – which tells the story of the very first pancake breakfast started by a cowboy called Wild Horse Jack – should also come out.
Visit thetravellingmabels.com or redbarnbooks.ca for more information.